History – Kalamazoo Points the Way
In the fall of 2005, an announcement in Kalamazoo, Michigan sent shock waves through American education. Anonymous donors would make it possible to provide all graduates of the Kalamazoo Public Schools with full tuition scholarships to any state university or community college in Michigan.
The Kalamazoo Promise had been born.
The news caused elation among residents of Kalamazoo, but the impact of the Promise was felt far beyond this west Michigan community. Across the country, The Kalamazoo Promise was seen as a new type of scholarship. Rather than basing scholarships on need or merit, they would be place-based and universal, making them a powerful tool for community and economic development. The generous donors behind The Kalamazoo Promise did not simply want to send more young people to college. They wanted to transform a former manufacturing center into a prosperous city in a knowledge-driven economy.
The impact of The Kalamazoo Promise was immediate. By the time school opened in the fall of 2006, enrollment had grown by 10 percent, after decades of decline. More students were staying in school, and more would go to college. Today Kalamazoo Public Schools take pride in a broad set of upward indicators—from a spike in the number of students taking Advanced Placement courses to the increased number of graduates who have earned their college degrees through the Promise. And on the economic front, Kalamazoo weathered the Great Recession far better than other Michigan cities and has regularly maintained an unemployment rate below the state average.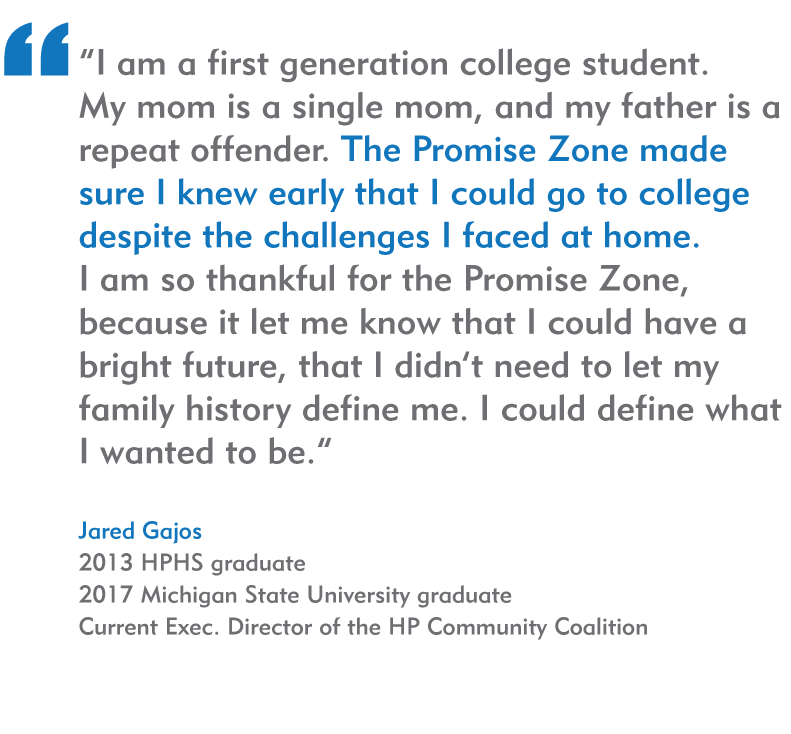 The Promise Takes Wing
It did not take long for other communities to follow Kalamazoo's inspiring example. In 2007, funding from the Murphy Oil Corp. led to the creation of the El Dorado Promise in that Arkansas community. In 2008, a $100 million matching grant from the University of Pittsburgh Medical Center made the Pittsburgh Promise a reality.
Other cities followed suit. Today several hundred American communities are at various stages of Promise scholarship development. Some have been blessed with major "angel" donors. Others have had to piece together the resources needed to fund their own universal scholarship initiatives.
Michigan Promise Zones Emerge
In 2007, less than a year after The Kalamazoo Promise awarded its first scholarships, Michigan Governor Jennifer Granholm called for the establishment of "Promise Zones" in Michigan's economically distressed communities. Each zone would be a public-private partnership committed to ensuring that every child in a community had a tuition-free path to at least an associate's degree. Lawmakers of both parties collaborated to develop Promise Zone legislation. By January 2009, it had been signed into law.
Since then, state lawmakers have revised the statute several times to make the legislation work better. In November 2017, Governor Rick Snyder signed a bi-partisan bill expanding the number of Promise Zones from 10 to 15.