Promise scholarships are currently being offered in 13 Promise Zone communities. To comply with the requirements of the state's Promise Zone statutes, they provide scholarships to all students who both live within the zone's boundaries and graduate from a high school located within those boundaries. All must also provide a scholarship that gives students a tuition- and mandatory fee-free path to a least an associate degree at one Michigan institution. Communities can elect to provide more, up to and including a bachelor's degree.
How do Promise Zones Work?
Promise Zones are a unique approach to creating community-based universal scholarship programs that raise educational attainment levels and promote economic development. The Zones are public-private partnerships led by Promise Zone Authorities composed of local public officials and private sector leaders.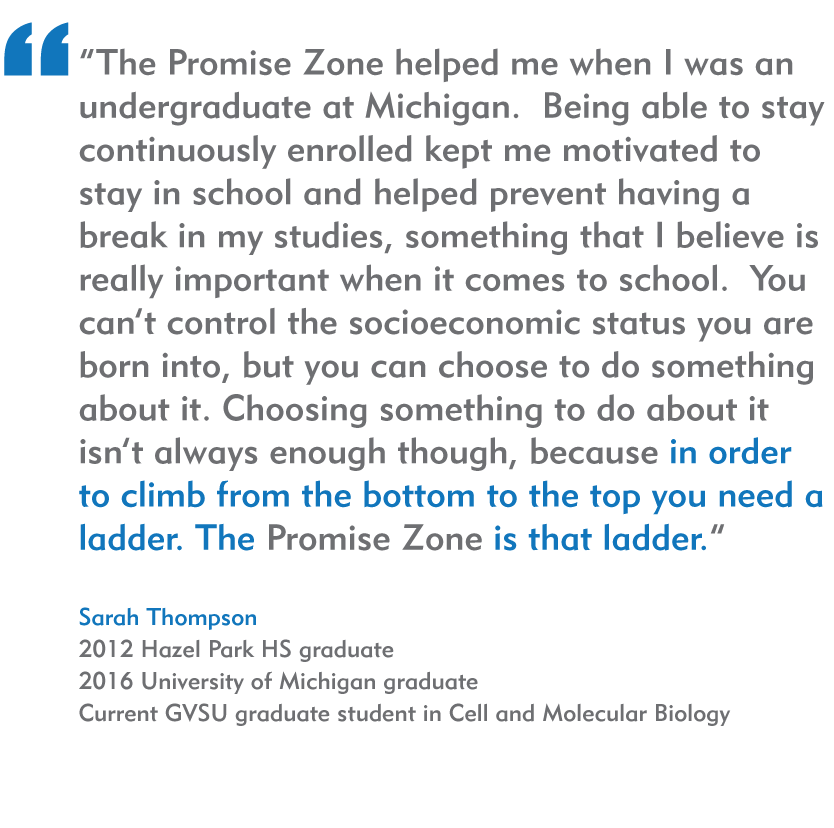 Promise Zones award scholarships in conjunction with the Pell grant and other need-based grants to offer all eligible students a "tuition free" path to a college degree. Many of the Promise Zones focus on scholarships at the associate degree level, but others provide scholarships that can also be used at BA-granting institutions. Each Promise Zone makes its own decisions about how large its scholarships will be and at which Michigan colleges, universities and technical schools it can be used. Promise community leaders help pay for the scholarships with privately raised funds and donations of all sizes. Promise Zones are also tax increment financing districts that can use a share of the growth of Michigan's state property tax to pay for scholarships. Read on for more information about how this "tax capture" works.
What is a Promise Zone Authority?
Each Michigan Promise Zone is governed by an 11-member Promise Zone Authority. To encourage strong private sector involvement, no more than three members of an authority may be public officials. Nine authority members are appointed by the executive of the entity that initiated the Promise Zone, such as a school superintendent or mayor. The leaders of the Michigan Legislature also appoint two members to each authority. The authority is charged with creating a development plan focused on what a community's Promise will be and how it will be funded.
The Promise Zone Authority must decide when a Promise program will begin, and whether it will be for an associate degree (the legal minimum), a Bachelor's degree, or something in between. The Authority will also decide if the Promise will extend to any categories of students not mandated by law.
Who gets the Promise?
Promise Zones are required to provide scholarships to any eligible student who lives in the Promise Zone and graduates from a high school located in the zone. These include graduates of public school district, charter, private and parochial high schools. The Promise Zone Authority may prorate the amount of the scholarship based on the number of years a student has lived in and attended school in the Promise Zone. The authority may also establish a high school grade point requirement for students to qualify for their initial scholarship and a college academic standard to continue to receive their scholarships once they are in post-secondary education.
Where can the Promise be used?
The Promise Zone Authority may limit the use of the scholarship to one or more public or private higher education institutions in Michigan. All students who qualify for the scholarship must have a tuition-free path to, at minimum, an associate degree at one or more higher education institutions.
Authorities may begin by focusing on this required minimum, and then expand options to other institutions and to bachelor's level degrees.
Promise Zone Authorities may also include non-degree programs and technical schools. Scholarships to private institutions must be limited to an amount not greater than the average tuition at Michigan's state universities.
How is the Promise paid for?
All students who seek Promise Zone scholarships must apply for federal student aid by filling out the FAFSA (Free Application for Federal Student Aid). This determines if the student is eligible for need-based aid, most often the federal Pell grant. Once the student's total need-based grants (not loans) are determined, students will receive a Promise Zone scholarship to pay the remainder of their bill for tuition and mandatory fees. Promise Zone Authorities solicit private donations to fund their scholarships and, beginning in their third year of operation, may qualify for state funds through a mechanism known as tax capture.
These three sources of funding—the student's Pell grant or other need-based aid, private contributions and revenue from the state tax capture mechanism—will allow communities to keep their promise of educational opportunity.
The end result for the student is the ability to attend college free of any expenses for tuition and mandatory fees—the same basic promise The Kalamazoo Promise makes to students in its community.
How does tax increment financing work?
Tax increment financing (or "tax capture") is a mechanism that has been used to support various economic and community development projects—typically bricks and mortar projects that involve construction and infrastructure improvements. The state of Michigan is the first unit of government to use tax increment financing to expand higher education opportunity.
Once the Promise Zone Authority has awarded its scholarships for two years, it is able to capture half of the growth in the State Education Tax (SET) within the zone's boundaries to help pay for its Promise. The SET is a six-mill property tax levied on all property in the state that has not been exempted for some other purpose.
Tax capture is automatic under the law. No annual appropriation from the Legislature is required. When tax revenues grow, a set share of that new revenue is captured for a purpose specified by law. However, if tax revenues are stable or decline, tax capture can be reduced or interrupted for one or more years. The Baldwin Promise became the first Promise Zone to receive a tax capture payment from the state in 2012.
"Tonight I am proposing legislation to establish 'Promise Zones' that will help our distressed communities create public-private partnerships to replicate the generosity of The Kalamazoo Promise. I see a Flint Promise and a Benton Harbor Promise and a Detroit Promise stimulating economic growth in those cities and giving all kids the greatest gift of all – the chance to go to college."
Governor Jennifer Granholm
State of the State Address
February 6, 2007